May 1981 – December 1984
Photos by Clovis Prevost
Cover of project proposal submitted to Mecénat
d'Entreprise to finance maquette.
Study of vault (from his sketch books).
Study of vault (from his sketch books).
Vault made of glass fibre and polyester resin (2.5
m / 8.2 Ft diameter) in workshop.
Jacques Monestier and Mathias Prevost in front of the
maquette. Talking head of Saint John in foreground.
Maquette completed in workshop.
Programing system for the entire maquette.
Study of special effects for clouds (from his sketch
books).
Special effects for moving clouds in workshop.
Study of throne of God (from his sketch books).
Unwinding system for projection of 35mm film in closed-loop
(180m film).
Building maquette of volcano with wire mesh and plaster
bandages.
Maquette of erupting volcano. Special effects to shoot
with Fisheye camera.
Study of beast with 7 heads and 10 horns (from his
sketch books).
Study of beast with 7 heads and 10 horns (from his
sketch books).
SSculpture of the head of the Apocalypse Beast.
The "Ecorchés" (skinned cadavers)
by Fragonard filmed in the museum of the National Veterinary School
to represent the fourth knight of the Apocalypse.
The shooting crew in the Fragonard Museum at Maison
Alfort Veterinary School.
Creation of the angel for the Maison des Nations (casting
of angel's face by the Louvre's workshops).
Angel harvesting wheatfield.
Painting of the sky for Patmos maquette by Joel Moulin.
Shooting with Fisheye camera for Patmos maquette.
Study of tree of life (from his sketch books).
Study of Celestial Jerusalem (from sketch books).
Maquette of the bus to transport and present the maquette at the
CGI Head Office in Lille.
Presentation of the maquette on the bus, at the Maison de la Chimie
(Paris) for the 1985 OSCARS DU MECENAT.
Eric Molinié and Jacques Monestier next to the
bus housing the "Apocalypse".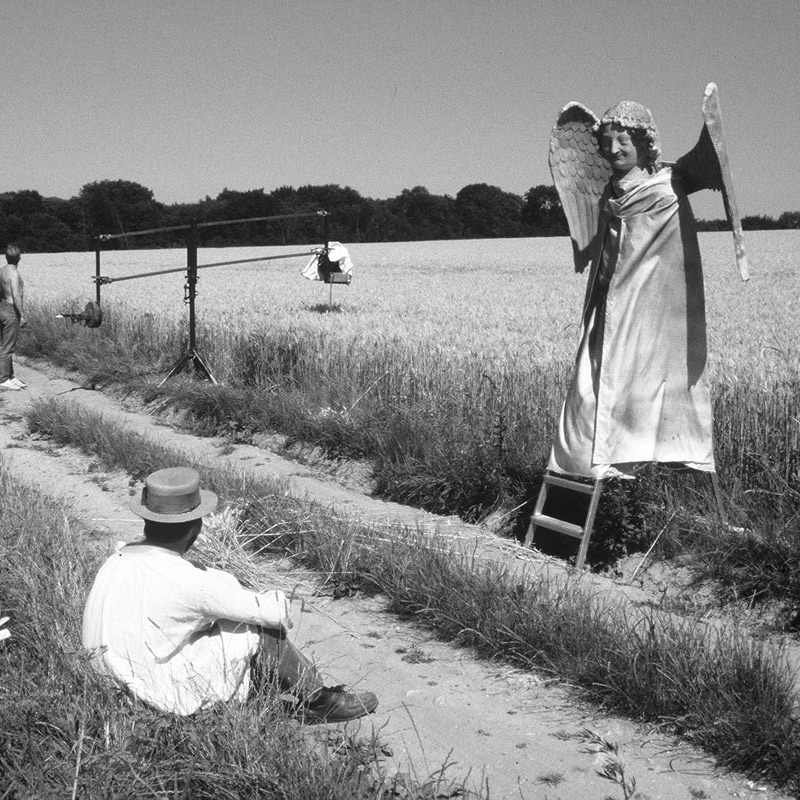 List of those who took part in this project :
Mathias Prévost (Assistant)
Eric Molinié (financial case and promotion)
Clovis Prévost (Photographer and Director)
Frédéric Jaulme et Hubert Corbin (film makers – Panrama system invented by Philippe Jaulme)
Michel Geiss (soundtrack and programming)
Michel Etcheverry (Member of the Comédie Française has kindly recorded Saint-John's voice)
Gilles Bougeault (Sound Engineer)
Joël Moulin (Painter first prize in the 1961 Grand Prix de Rome)
Maquette created thanks to the support of Crédit Général Industriel and awarded Special Prize of the Jury at the 1985 OSCARS DU MECENAT D'ENTREPRISE.
"By financing this maquette project, CGI group gave the opportunity to live a great cultural and artistic adventure of exceptional dimension and originality. They found in Jacques Monestier's work his values in life : Passion, Ambition, Technological Innovation and Humanism."
(Bruno Libert – CEO of CGI Group)