Foreword by André JACQUEMIN
Written in 1992 for a book project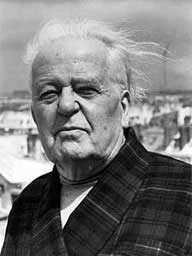 He could have been born during the great Italian Renaissance period. I could have easily pictured him as an apprentice, collaborating with or even competing against a master such as Leonardo Da Vinci, for whom in after years he has always expressed an unbounded admiration.
Jacques Monestier was born in this amazing town of Puy-en-Velay, old city with the breathtaking cathedral built on the slope of a hill or the extraordinary chapel de Saint-Michel d'Aiguilhe built on top of a volcanic plug. Those 2 spectacular landmarks probably influenced the child's future career.
After studying engineering at the Breguet School and architecture at the Ecole des Beaux-Arts in Paris, he began making his own automata. And in 1965, he was awarded a vocational grant ("Bourse de la Vocation"). He rapidly received significant recognition for his animated sculptures thanks to his great sense of kinaesthesia and aestheticism and his desire to work with rare materials such as gold leaf gilding on copper.
Just like the Italian genius he admires so much, Jacques has always been fascinated by animal and human movement as well as the animal fantasy world. These two passions are united in the animated sculpture he built in the Quartier de l'Horloge in Paris.
All those motion sculptures are the result of a multitude of ink drawings, an extraordinary acuity, in the spirit of the greatest Italian masters.
His first automata worked with very basic mechanisms. On the contrary, the latest ones require sophisticated techniques (I.T, robotics).
The high technology and flexibility of his beautiful "hands" allowed him to realize a dream for the people who have lost this essential part of their body. His articulated hand, result of a 20-year research, uses the same basic principles as a human hand. This prodigious prosthesis was created after a lot of discussions, brainstorming with great medical specialists. This articulated hand, which does not copy the appearance of a human hand, will definitely be considered as a marvel for amputees.
Jacques has been commissioned by Charleville-Mézières City Council to create a monumental clock with animated figures called "The Great Puppeteer Clock". This large automaton clock will illustrate an Ardennes legend, the Four Sons of Aymon, which had already been covered by the popular imagery of Lorraine. To make the sculpture, he had to build a workshop in his garden, big enough to house it.
A few years ago, he made an amazing maquette for a future sound show to present the Apocalypse of Saint-John which inspired many artists.
His dream would be to make this preparatory model become a full scale work which would definitely reveals his extraordinary creativity in all sectors.
Jacques Monestier is a Creator, a Plastics Technician, a Goldsmith, an Engineer who has never felt he had to limit himself to new trends in art.
He is a very talented Artist and I am delighted to see that his already substantial body of work is presented this way, just like a treasure in a box.
André JACQUEMIN of the Institute